Two more police chief hopefuls meet the community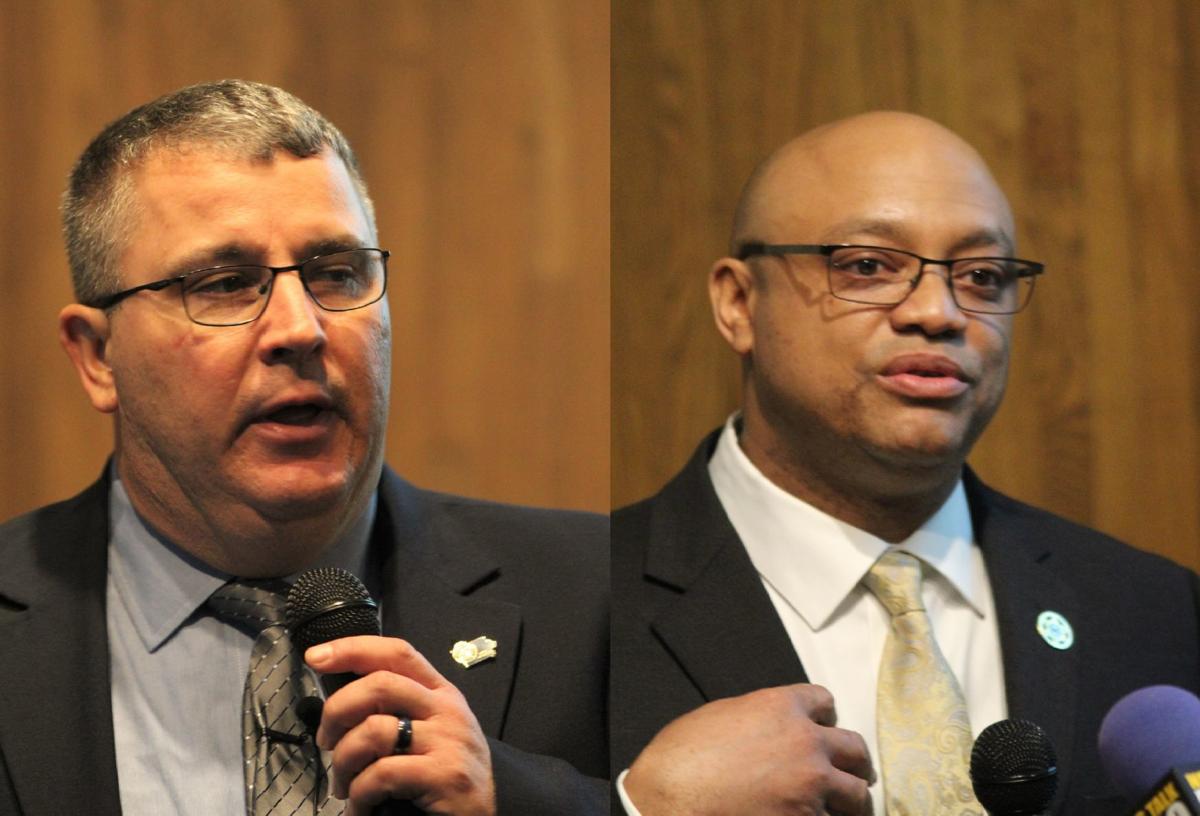 Iowa –  Two men seeking to become the city's next police chief took turns Wednesday making their cases to the public.
Maj. Joe Liebold, a 30-year veteran of the Waterloo Police Department, and Capt. Wayne Hudson, who served 25 years in the Douglas County, Neb., Sheriff's Office, talked about their qualifications and plans before a large crowd at the Waterloo Center for the Arts.
The two other finalists, Waterloo Police Lt. Corbin Payne and Joel Fitzgerald, who has headed several police departments in Texas and Pennsylvania, made their presentations a day earlier.
Liebold, who has been acting chief since Dan Trelka retired at the end of last year, spoke about the various positions he's held since 1990 and the many programs and policies he helped institute.
"I've created value for my organization," Liebold said. "Some (the) officers didn't like, some they did. I've not always made everybody happy … but I've always done things in the manner of what I thought was right.
"I'm not standing up here alone," he added. "I've had a lot of support, and a lot of it's in this room. Some of them are retired. I have so many mentors that have allowed me to get where I've gotten."
Liebold said he helped start a complaint tracking form, developed the department's use of force and body camera policies, implemented wellness programs for officers, and helped write a successful grant to start the department's Violent Crime Apprehension Team in 2008.
"They've taken so many firearms out of the hands that were using them illicitly," he said of VCAT. "They've intervened in shootings. They've been watching houses as people pull up to shoot and they stop them."
Liebold also took the initiative to speak to everyone from high school students to the University of Northern Iowa football team to ex-offenders about how to interact with police during traffic stops.
All of the finalists were asked to present their thoughts on community policing and working to build diversity on the force.
Liebold bemoaned the fact staffing shortfalls and a high volume of calls for patrol officers has made it harder for them to engage with community groups. But he said it's important to work with schools and other organizations to build relationships before problems arise.
"You've got to do it all the time," he said. "You can't build trust in a crisis.
"For community policing to work it's got to be department wide," he added. "Everybody from records to dispatch to the officer on the street to the supervisors to the commanders. We've all got to be involved. The chief can't do it by himself."
Liebold said the city has been doing a better job of recruiting minority applicants in recent years but needs to extend those efforts full time instead of just when applications are being sought.