West dashes Dodgers' hopes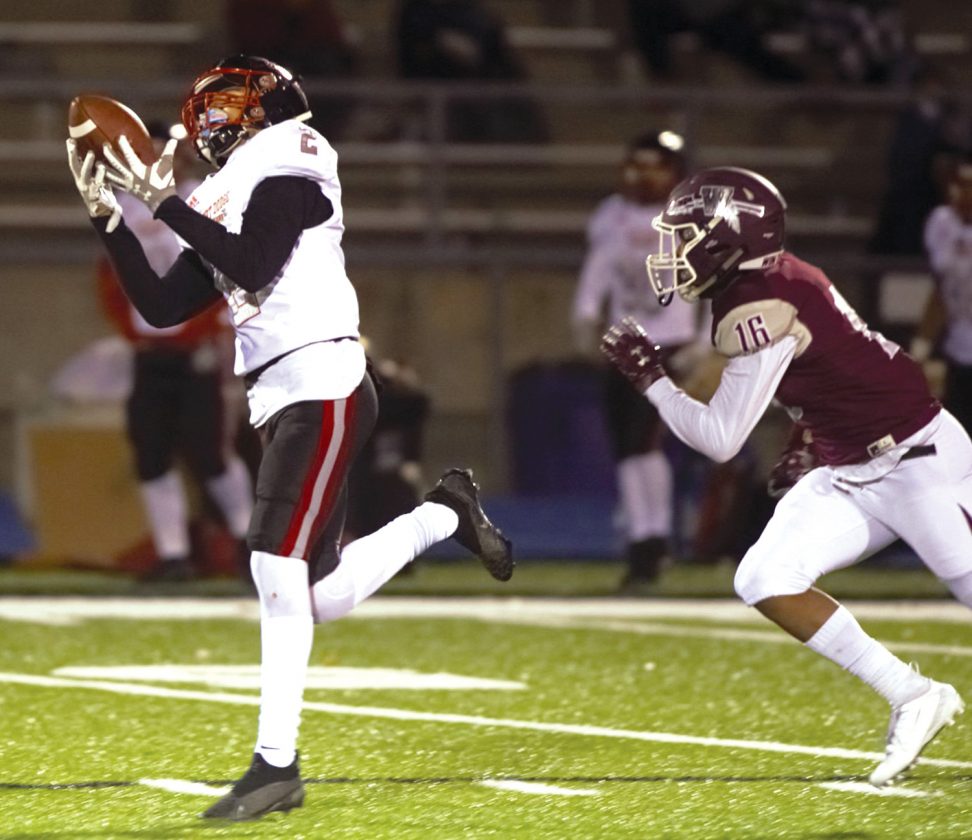 Nik Moser felt helpless after Fort Dodge's crushing 24-17 Class 4A second-round postseason loss to Waterloo West on Friday at Memorial Stadium.
Helpless because he couldn't do anything about the outcome. Helpless because a pair of questionable officiating decisions late — one call and one no-call — stalled the Dodgers' potential tying or even winning drive in a goal-to-go situation during the final minute of the game.
And helpless because he had to face a locker room full of teary-eyed, crestfallen players who had just watched their season come to an end in devastating fashion.
"I'm at a loss for words," said Moser, who saw his inaugural year at the helm finish in a way that left him perturbed. "Our guys fought back after a tough third quarter with heart and guts. We made plenty of mistakes. I made plenty of mistakes. It's just an awful feeling — leaves a sick taste in your mouth, wondering what might have been.
"This isn't the way any of us envisioned it ending. I wish I could say or do something to change the outcome. I'd do it in a second. But that's the way it goes sometimes. You have to accept it and move on."
Trailing by a touchdown with 4:44 to go, Fort Dodge (3-5 overall) marched from its own 9-yard line to the Wahawk 8. Senior Tyler Schreier appeared to have scored what could have been the tying or even go-ahead touchdown on a 2nd-and-goal sprint to the end zone, but the Dodgers were whistled for holding — their first such infraction of the night.
Instead of either kicking the extra point or going for a two-point conversion and the win in the waning seconds, FDSH was backed up to the West 22-yard line.
Two plays later — with the season on the line — junior quarterback Carson Peterson lofted a pass for sophomore Javion Jondle in the back of the end zone. There was definite contact between Jondle and the defensive back as the ball soared toward the Dodger receiver, but no flag was thrown for pass interference.
The Wahawks (4-4) took over on downs and drained the final minute of the clock to prevail.
Moser was demonstrative in challenging the final ruling on the 4th-down pass attempt, but his pleading fell on deaf ears and the possession exchanged hands for good.
"I'm incredibly disappointed in what happened there and the final result," said Moser, still visibly upset. "Our kids fought too hard to have that (sequence of events) go down the way it did. There's nothing we could do about it, though. The calls were made or weren't made, and that's that."
West trailed 10-3 at halftime, but the Wahawks had run 48 plays from scrimmage to the Dodgers' 22 at that point and the tide began to turn in the third period. A 15-play, 65-yard touchdown drive to start the quarter knotted the score and wore FDSH's defense down even more.
"We just couldn't get our defense off the field," Moser said. "They were bending but not breaking in that first half, and it was a huge credit to our guys that we'd only given up three points. But they converted a number of third downs to start the second half (four on that drive alone) and just kind of chipped away at us until we finally gave in."
A 50-yard screen pass for a score late in the third period put the Wahawks up 17-10, and a backbreaking sequence early in the fourth knocked the Dodgers' backs against the wall.
West intercepted a pass in the red zone to thwart a successful Fort Dodge answer, and on the next snap, senior quarterback Carter Schulte threw a perfect 64-yard touchdown strike to standout receiver Tay Norman. Instead of a potential tie score, the Dodgers were suddenly down 24-10 just seconds later.
Fort Dodge regained some momentum with a 54-yard Schreier TD pass from Peterson, then forced a punt to set up the final possession.
Senior Dayson Clayton capped his brilliant four-year varsity career with a 23-carry, 154-yard performance. Seeing the field for the first time in a month at or near full-strength, Clayton accumulated 59 of his yards on the final drive before suffering an injury and having to leave the contest.
Clayton ended up with 3,481 rushing yards – third all-time at FDSH, behind only Sam Cook (4,882) and Clayton's older brother Jontel (3,522).
Peterson tossed a 73-yard bomb to Jondle to get the Dodgers on the board quickly a little over four minutes into the first period, but Fort Dodge only netted three points – on a 34-yard field goal by junior Gavin Schillerstrom – during its next six possessions. Three ended in turnovers.
Senior Sam Daniel intercepted his state-leading and all-time school-best eighth pass, and classmate Jerry Chada also had a pick. Senior Troius Harper recovered a fumble.
The Dodgers ran only 48 plays from scrimmage, compared to 76 by West. Schulte rebounded from two first-half interceptions and 16 incompletions to go a perfect 7 of 7 for 144 yards and a pair of scores after the break.
Bruising senior tailback Michael Robinson Jr. had 23 carries for 120 yards, as the Wahawks racked up 445 yards of total offense against an exhausted FDSH squad.
West earned the program's first postseason victory since 1991. The Dodgers' playoff drought was extended to 26 years.
Clayton, Daniel and offensive lineman Sawyer Springer were the three captains. The trio suited up for the final time in an FDSH uniform, along with classmates D'Arien Calahan, Dylan Zimmermann, Thomas Daniel, Kody Cook, Michael Daniel, Matt Surles-Davis, James Daniel, Reco Jolly, Anthony Foote, Jacob Totten, Jacob Baker, Carter Forbes, Bryant Ulstad, Bradley Zahrobsky, Chada, Harper and Schreier.
"I'm just hurting so much for the seniors especially," Moser said before re-entering the locker room to meet with each player individually. "I wouldn't trade them for anyone, and I mean that. They still have so much to be proud of, both in what they accomplished on the field and, more importantly, the way they have represented our program at school and in our community.
"I will always remember my first senior class (as a head coach), and this team is going to be special to me for the rest of my life."