Waterloo students named state culinary champs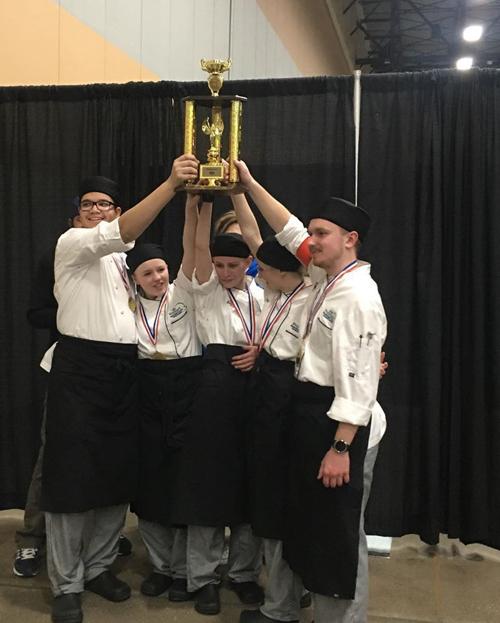 WATERLOO – Practice and hard work were a winning recipe for a team of Waterloo Career Center students who were crowned the state's culinary champions Tuesday at the 2020 Iowa ProStart Invitational hosted by the Iowa Restaurant Association Education Foundation in Des Moines.
Led by ProStart culinary team coach and Waterloo Career Center instructor Tracey Hulme, in her 11th year of teaching with Waterloo Schools, the group beat seven other teams for the win.
"My philosophy is we don't have any magic pill. We just outwork everybody," she said.
The team of five students, Hayleigh Zikuda, Grace Vandersee, Brady Bengston, Quincy James and Jaida Dix, will represent Iowa at the National ProStart Invitational in Washington, D.C., May 8-10, where 400 students from across the country will compete for millions of dollars in scholarships and a national championship title.
With one hour to create a meal suitable to be served at a five-star restaurant, the team strategized on how to prepare its items with no refrigeration, freezer or ovens. Each team used two camp stoves within a 10-square-foot working space.
"It's very limited what they can come up with in that hour," Hulme said.
The Waterloo team created a smoked fish trio appetizer, with whitefish, salmon and trout, featuring a crème fraiche, capers, shallots and tobiko. A tenderloin of venison was served as the main course, with parsnip-pomme puree and a brandy-cream reduction. For dessert, the team whipped up a vanilla bean cake accented with almond brittle, amaretto zabaglione and Chambord-huckleberry coulis.
Scoring the teams on categories ranging from sanitation to knife work to taste were about 30 industry judges.
The team began practicing for the competition in October, putting in four to five hours about three nights a week and six to eight hours on Saturdays.
"It's a very long and intense season," Hulme said.