Mother throws "Satanic" birthday party for her 1-year-old baby!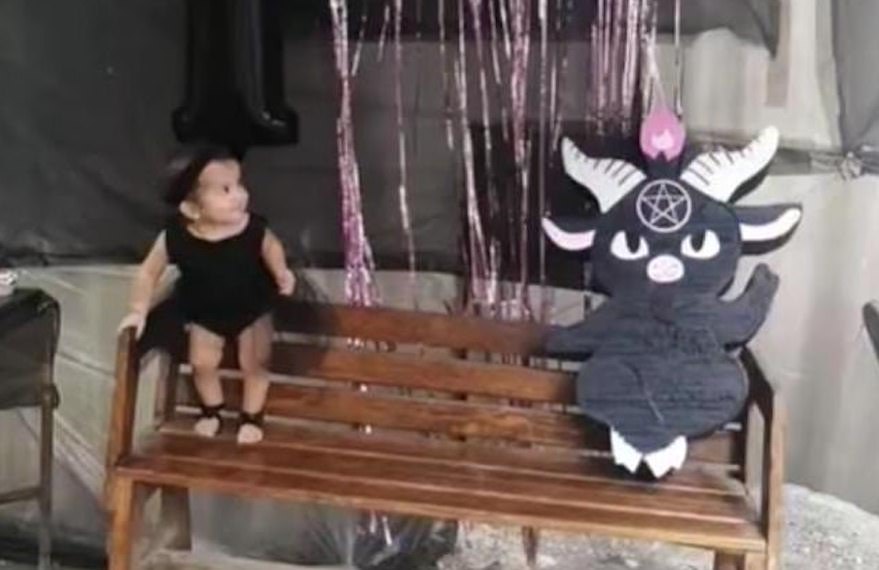 Per reports, mother has been accused of throwing a Satanic birthday party for her 1-year-old child after images of the birthday bash went viral on social media. In the photos, the mom showed off the decorations she chose for her baby's birthday party, which seemed to include sinister decorations that resemble what people think of when they think of a satanic worship cult. The mother, Janeth, shared a video of her baby, Lilith, during her birthday party. The little girl wore a black outfit while celebrating her first birthday and is shown surrounded by apparently Satanic decorations that left social media users in a state of utter shock and horror.
The birthday video, which was uploaded to the social media platform, TikTok, showcased the birthday party for the one-year-old baby. The video has received more than 3 million views. The party decorations included black and pink balloons as well as a pinata that appeared to be a demon named Baphomet, which is a demon with a goat head that is often represented during occult rituals. Images of the birthday party showed off the little girl in her black outfit. In addition, Adele's hit song Rumors is playing in the background, which led people to speculate even more about the Satanic nature of the baby's birthday party. Janeth captioned her viral video, "Rumors say I had the best outfit for my first birthday." In the images from the birthday party, Lilith is shown striking a pose next to a star that is often used during Satanic worship rituals. The star also gets used during sacrifices, according to Daily Mail.
The one-year-old baby is also shown smashing her birthday cake, which was topped with a pentagram of icing. She also destroyed the Baphomet pinata during the party to celebrate her birth. Janeth described her daughter's birthday party theme as "cute as Hell." She really was going for a Satanic theme for the tot's birthday bash. Social media users did not approve of the birthday party theme. They felt that it was inappropriate for the little girl to be celebrated with a theme that honored the lord of the underworld. One person suggested that the birthday party was a "sacrifice," while others wondered if it was a celebration of "spiritualism."
Janeth received numerous negative comments about her daughter's Satanic birthday, so she took to the comments herself to share her side of the story. "I see there are many news sites that put out my daughter's party with lies. One. We're not Satanists. Two. There were guests. Three. The party didn't have anything to do with Satan. Four. The pinata isn't Satan, nor the devil. It's Baphomet. Five. The pentagram isn't inverted because it's not satanic."