Mom shares her "cheeky answers" to her 4-year-old's school form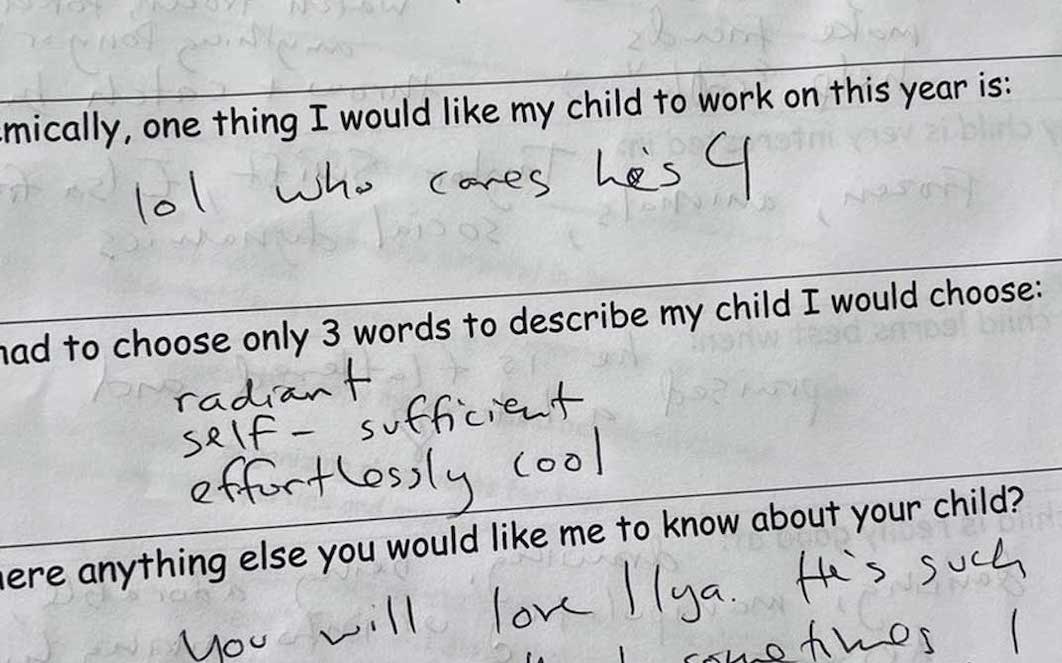 Beginning at a young age, our children are given goals, both academic and social, to achieve, and if they don't reach or exceed them, they've failed. But the reality is they haven't failed, we as a society have failed them. We put too much pressures on our littlest ones to be the best, and at least one mom has had enough. Her cheeky response to her child's progress report has caught a lot of people's attention.
Emily, novelist, writer, and mother of two, recently shared a portion of a form she received from her four-year-old's school. On it were several questions asking about how she'd like to see her child grow this school year. She was also asked to describe her child for the teacher. Her honest responses to the questions earned her praise. When asked what she would like her child to "work on this year," Emily simply wrote, "not being a popular mean girl."
There was a similar question, but this time focused on academics. Emily's response was sassier, but more truthful than her first answer. Many people on Twitter praised Emily for making the case that our youngest shouldn't be pressured to work on things either academically or socially. "Very honestly told, for 4 years old there should not be any burden of assignments academically or any kind of work….you are very good mom…," one user wrote. "Just loving your honesty here," someone else tweeted.
The questionnaire also asked parents to describe their children. Emily chose to describe her child as "radiant, self-sufficient, and effortlessly cool," which were probably not the words the teacher was looking for. The last question was a prompt that could have received any number of answers, but once again Emily took the opportunity to showcase her sense of humor. "You will love Ilya. He's such a sweet person that sometimes I wonder if he was switched at birth. (Then I remember I had a home birth, lol.)"