Martin: Campbell, Klieman take similar paths to reach peak in premier Big 12 tussle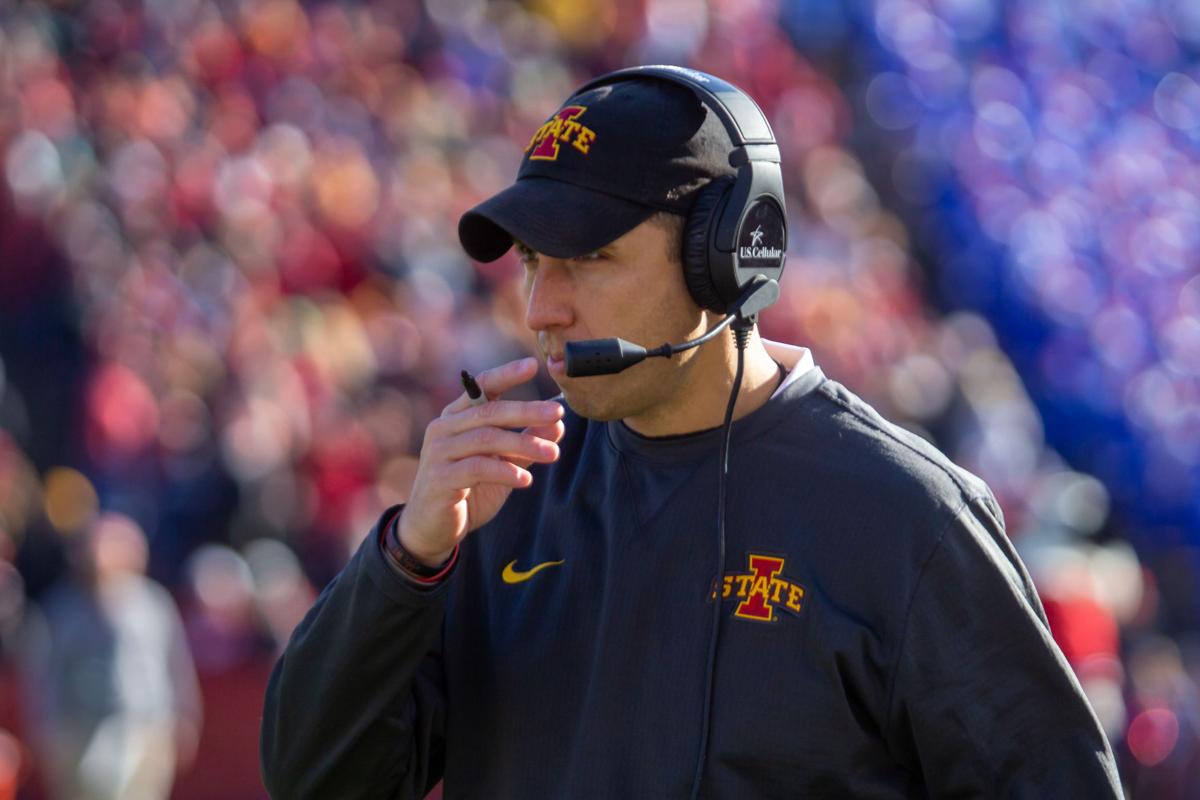 Massillon, Ohio, gave birth to one of the rising young head coaches in Division I football.
Waterloo, Iowa, is the homeland of the most consistent head coaches, no matter the level of competition.
Being born in different states is one of the few differences between Iowa State's Matt Campbell and Kansas State's Chris Klieman's respective paths to Saturday's contest between the two Big 12 rivals at Jack Trice Stadium, potentially on the verge of the second spot in the conference championship game in exactly one month.
To understand how identical these two men are, you have to look back to their playing days.
Campbell was a standout defensive linemen for Mount Union, one of the premier NCAA Division III programs in the country. He was a two-time College Football All-American and was named the defensive player of the year in the Ohio Athletic Conference.
An additional three championships isn't too bad, either.
"Coach [Larry] Kehres, just look at his program where success was sustainable for a long period of time — and they're even having success today," Campbell said in 2017. "The one common denominator that I've always believed is you have to love football. You have to love going every day and getting better at the sport of football."
Klieman stayed home and was a defensive back for the University of Northern Iowa all four years, earning All-Conference honors three times in the former Gateway Conference. Though he never got the college accolades Campbell did, Klieman was a star at the high-school level, playing quarterback and in the secondary under his father at Columbus Catholic High School.
So both coaches were solid to very solid defensive players in their respective college careers. Surely, that's the only similarity between them, right?
Wrong on so many levels.
It took Campbell much quicker to get a Power-5 coaching gig then Klieman, but it's hard to argue against Klieman's logic.
The 53-year-old was the leading man at North Dakota State, the cream of the crop of the Football Championship Subdivision, from 2014-18.
He was part of three straight championships as the Bisons' defensive coordinator and then continued the most dominant stretch of winning in recent college football history, claiming two more titles for an NCAA record of five straight.
In five years as the head coach of North Dakota State, Klieman won four national championships and guided the program to record of 69-6.
A year later, he replaced Kansas State legend Bill Snyder as the leader in Manhattan.
"[Snyder is] one of the most synonymous names in college football history, not just at Kansas State but anywhere," Klieman said of Snyder during his first Big 12 media days in 2019. "What Coach did at Kansas State was nothing short of remarkable, and I'm going to feed off that."
Klieman has kept his word.
In his first year, he led the Wildcats to an 8-5 record and placed third in the Big 12. That has followed with another year in the top 3, despite them losing their starting quarterback early in the season to injury.