Little boy, who was severely injured after being run over by 18,000 lb bulldozer and his family almost did not expect him to survive, starts walking just few days later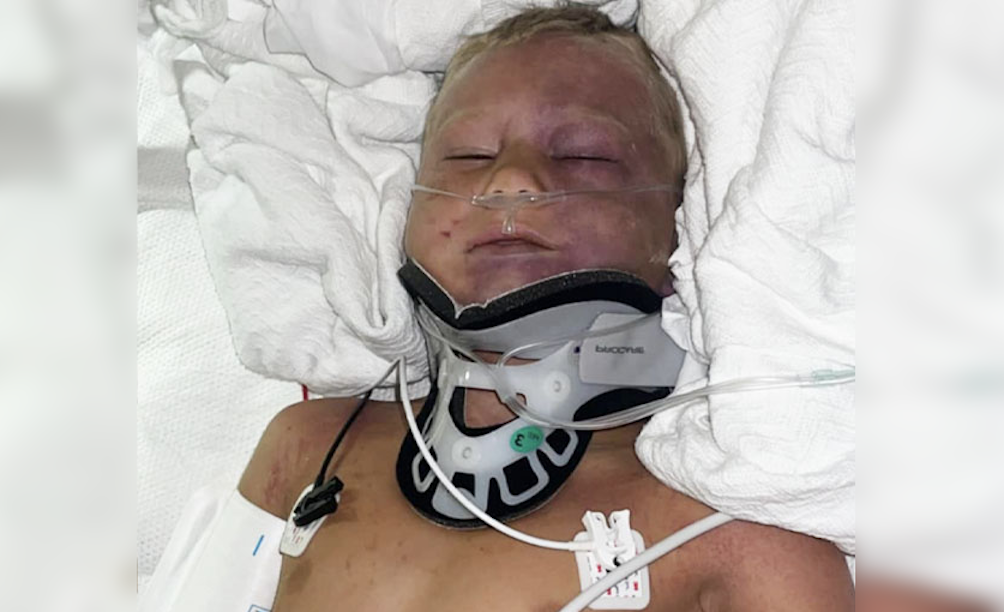 If something bad happens to your child, it is probably the worst feeling in the world. I really think that all parents would agree on this one. This family went through a traumatic episode with their six-year-old, but luckily, a miracle followed. On July 27th, 6-year-old boy, Bodie was spending a typical Wednesday morning with his father at a job site. But then tragedy struck as a huge bulldozer weighing 18,000 pounds ran over the little boy! The young child was immediately airlifted to a hospital. It was found that the little boy had several fractures as well as a brain injury. As he was recovering from all his injuries, his temperature spiked and the boy tested positive for Covid-19.
His parents, Samantha and Boring were absolutely heartbroken at what their little boy was going through. His injuries were so incredibly severe, that his family almost did not expect Bodie to survive through them. His mother Samantha updated friends and family on Facebook about Bodie's progress, she wrote, " [Bodie] was life flighted to temple & all I could do was beg God not to take my baby (sic)." But as his parent's worried, Bodie was getting stronger and fighting to stay alive. The little boy even started walking before he had tested positive for Covid-19. His parents were incredibly proud of his spirit and believe it is a miracle that Bodie is still here.
His mother wrote, "This is a miracle, and there's only one explanation as to why [Bodie's] still here and I truly believe that that's God." After the outpouring of love and support Samantha received from posting updates about young Bodie, she continued to do so. One day after the accident, she wrote, "This is one of the hardest things we have ever had to face but we are just so blessed that he is still with us… only our son Bodie would survive getting ran over by the track of a 18,000 lb Dozer. I honestly didn't even believe that was possible."
Of course, the hospital bills were adding up. So to help support her family, Bodie's cousin Magen Boring set up a GoFundMe page with a goal of $60,000, of which the family is only about $8,000 shy. The donations to the campaign are not only helping with medical bills but also allowing for Bodie's worried parents to take time off of work to look after their little boy.
Bodie himself was overjoyed at seeing support for him from the world over. Two days after his accident, Samantha reported that little Bodie had walked to the shower in his hospital room twice. On the way back to his bed, he had gotten tired and was carried the rest of the way. But even making those short trips was phenomenal and no less a miracle in itself! "I have never seen anything like it before in my life. Strongest, Toughest 6 year old I have ever seen (sic)," Samantha said about her 6-year-old.
Just five days after he had been run over by the 18,000-pound bulldozer, the little boy was taking firm steps with his walker on his own, which prompted his mother to post a video of this achievement and write, "You may be tough but you aren't walking 5 days after getting ran over by an 18,000 lb Bull Dozer tough. God is Good all the Time (sic)." On August 5th, doctors gave the go-ahead to the family to take Bodie home. Having been satisfied by his beautiful recovery, the medical staff was confident that Bodie would be back to normal in no time at all!