Governor Reynolds joined with state health and safety officials to warn Iowans about the growing threat of illicit fentanyl and counterfeit pills laced with fentanyl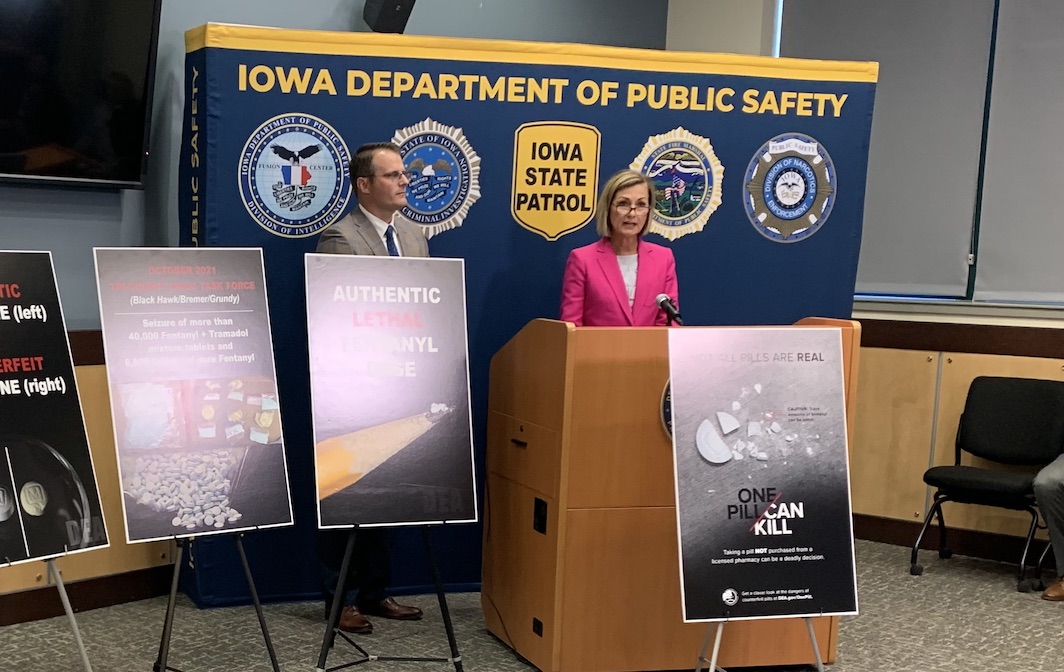 Waterloo, IA – According to the state officials, in 2021, the Iowa Division of Criminal Investigation's Criminalistics Laboratory analyzed 17,163 fentanyl pills disguised as prescription drugs. 
Officials also said that in the first 6 months of this year, that number has quadrupled to 70,556 fentanyl pills disguised as prescription drugs. 
While illegal, counterfeit pills are synthetic and relatively easy to make, market and distribute.
These pills can be purchased person-to-person, online and via social media, making them available to anyone with a smartphone, including young Iowans. 
These pills look like legitimate opioid or anti-anxiety prescription medication but may contain lethal amounts of fentanyl. 
Experts say as little as 2 to 3 milligrams of fentanyl can be deadly, and according to the Drug Enforcement Administration (DEA), 4 out of every 10 fake pills laced with fentanyl contain a lethal amount. 
Governor Reynolds reportedly said:
"While the rapid increase of drug overdoses and deaths since 2020 is largely attributed to the pandemic, the surge of illegal drug trafficking at our nation's southern border under the Biden Administration is undeniably fueling the fentanyl crisis and its resulting overdose epidemic.
Illicit fentanyl is smuggled into the U.S. and quickly trafficked nationwide where it is infiltrating our neighborhoods and threatening the lives of our children. Fentanyl is here and the threat is real–in our major metro areas and in our small towns–no community is immune."