G-R's shot at Spartans misses target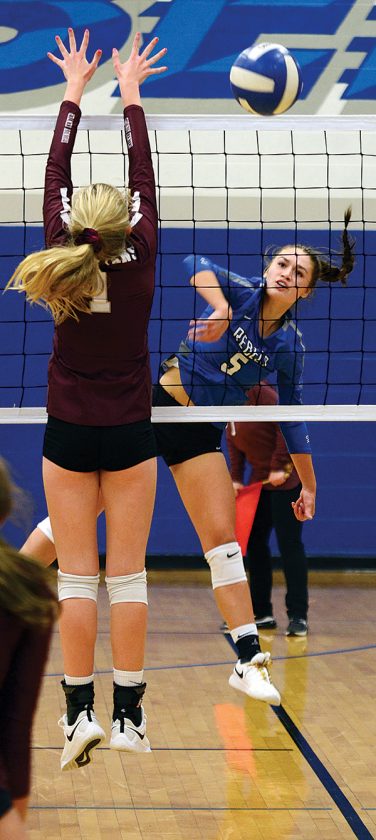 It's been quite a long time since the No. 5 Gladbrook-Reinbeck Rebels volleyball team lost a set. Coming into Tuesday night's home matchup with local rivals and NICL West rivals Grundy Center, the Rebels had won every set they played in since Sept. 8 in a 3-1 win over AGWSR, and they'd lost three sets all season.
They lost three to the Spartans, who surprised G-R and pulled off the 3-1 upset on the Rebels' home court.
Before the game, Grundy Center was boosted by the return of setter Ellie Luhring from an ankle injury suffered Aug. 29. This change allowed libero Jacque Kuester to return to her natural position and put the Spartans at full strength.
The Spartans hit G-R in the mouth in the first set, jumping out to a 16-11 lead before Rebels coach Paula Kelley took a timeout to try and stem the tide.
Kelley said Grundy Center did a good job on defense. The Rebels weren't able to create as many kills, creating only 30 on the night. Saari Kuehl led the team with 11, while Mahayla Olson recorded seven. Emma McClintock had 26 assists.
"They were playing defense in spots where we hit the ball, so that made a difference where we didn't get as many kills [as] we normally do," Kelley said. "We haven't had a good front row blocking team as strong as they have all season long, so that made a difference as well."
The Rebels couldn't find their way back into the set, falling 25-16 and facing a deficit. They responded strongly by charging ahead in the second set to tie up the game at 1-1 with a 25-16 win.
The win in set two was the only time where Gladbrook-Reinbeck was clearly in rhythm, Kelley said after the game. Grundy Center was buzzing all over the floor and making crazy saves, forcing the Rebels to work harder than they've had to in most games in order to win points.
The lack of rhythm would come back to haunt them in the final two sets of the night.
The third and fourth sets followed a similar pattern: Gladbrook-Reinbeck got an early lead and went firmly in front about midway through the action, forcing a timeout from the Spartans. Then, the Rebels would start to stutter as Grundy Center started to pick up momentum.