Doctor prescribed common medication, within hours boy's skin became covered in blisters and was given only 40% chance of survival!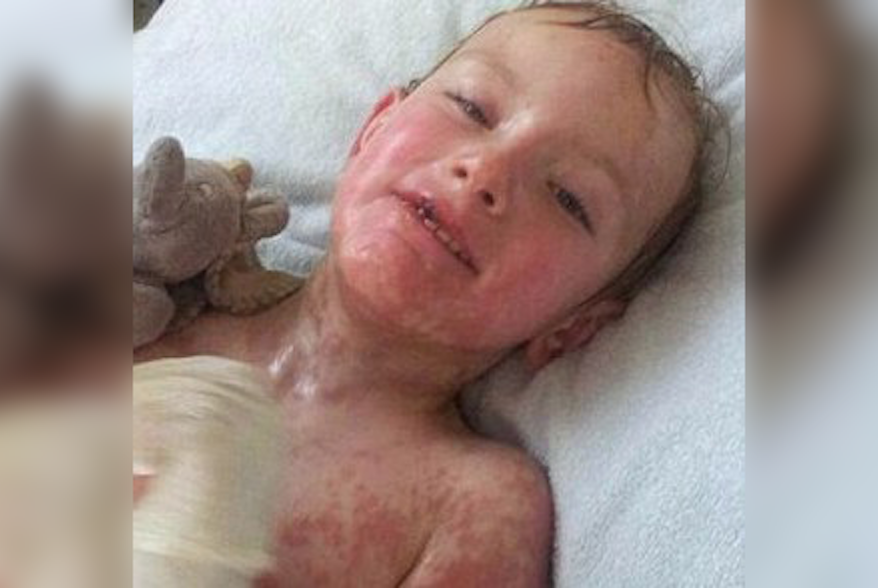 According to his parents, the 5-year-old child suffered a horrific reaction to a common medication. His name is Ellis and according to his parents, the boy's flesh began to fall off in chunks after his skin suddenly became covered in blisters from a reaction to a medication. The boy was prescribed the drug after suffering an epileptic seizure on his first day of school last year. His mother, Kayleigh, took him to a doctor where he was prescribed the medication, but within hours, the young boy developed a rash and complained that he felt sick.
Not even a day later, Ellis wound up in the intensive care unit covered in massive blisters, and his parents were informed that their son had Stevens-Johnson syndrome. Reports say that the rare disorder kills two of every five people who have it, and Stacey was given only a 40 percent chance of survival. "We were absolutely devastated. Ellis was so frightened and kept asking why he hurt so much," said Drayton.
"Because of all of the morphine, he was completely out of it and didn't understand what was going on. I couldn't even hug him, as his skin could have fallen off in chunks. It broke my heart to see him so afraid, but Carl and I had to stay strong for him. We were terrified that we were going to lose him forever." Miraculously, after three weeks in the hospital, the young boy's condition improved, and he finally was sent home.
"When I could hug him for the first time, it was the best feeling ever," said his mom. "We'd come so close to losing him, and I never wanted to let him go. He was still very poorly, but we knew that we were over the worst of it." Now, several years later, Ellis has made a full recovery and is joining his friends in school again. The only lasting effects from the horrific reaction are some scarring and asthma. Dear readers, we are republishing this story to raise awareness about Stevens-Johnson syndrome.