Cedar Valley high school graduation rates down after several years on the rise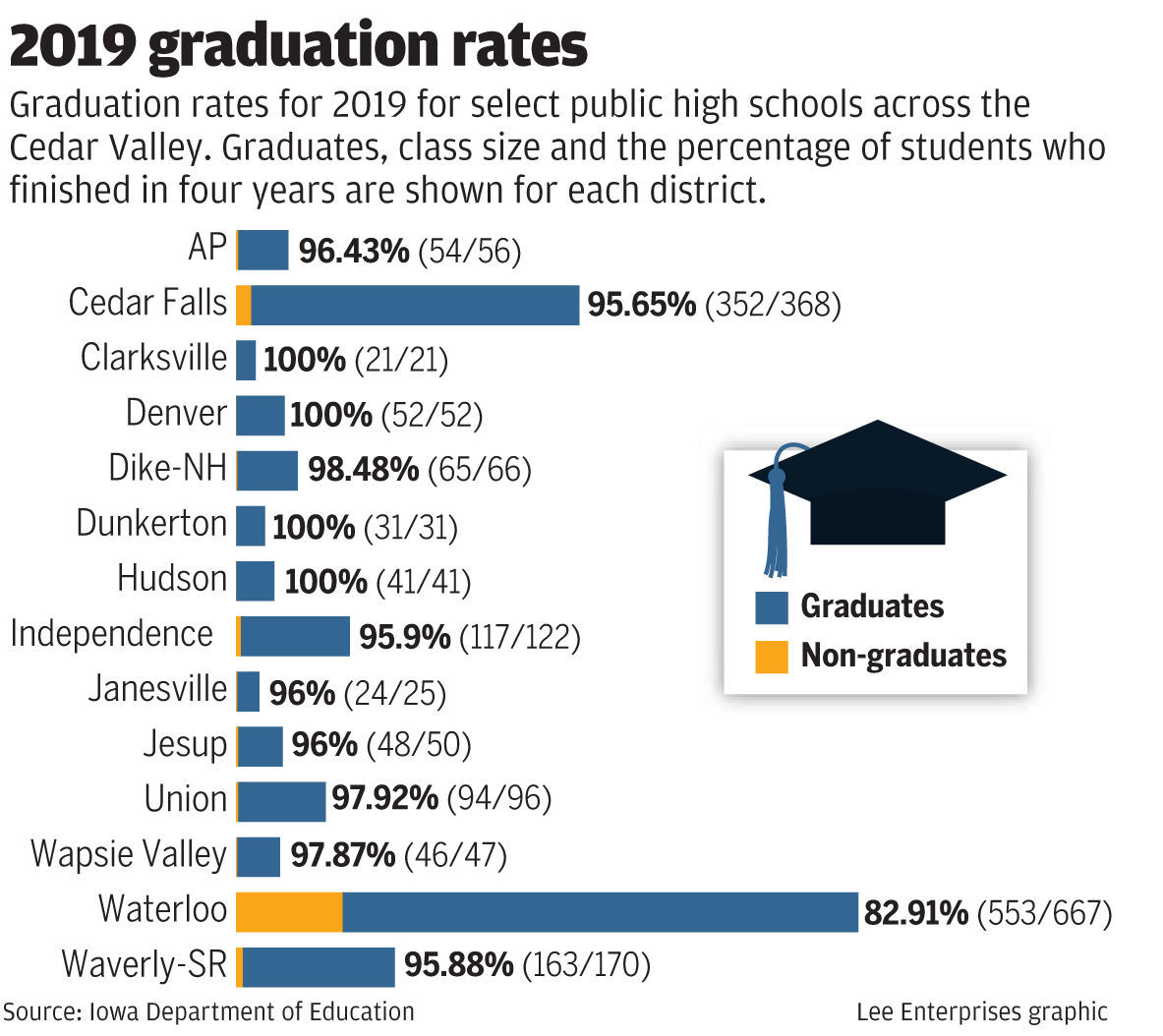 WATERLOO – Graduation rates at the Cedar Valley's largest high schools have dipped after several years of increasing numbers.
The news comes this week as the state announced Iowa's high school graduation rate, which climbed to a record high of 91.6% in the 2018-19 school year, according to the Iowa Department of Education. The department said the class of 2019 figure was up two-tenths of a percentage point from the 91.4% in the class of 2018.
After hitting a district record of 84.24% of students who graduated in four years in 2018, Waterloo Community Schools dropped to 82.91% in 2019 at its three high schools. Cedar Falls High School also dropped, from 96.83% in 2018 to 95.65% in 2019.
"While trends are never completely linear, this year's scores are more evidence of our rising graduation rate trend," said Waterloo Schools Superintendent Jane Lindaman. "And we are proud our graduation rates from our two comprehensive high schools, East and West, exceeded the state's average graduation rate of 91.6%."
In the spring of 2014, the Waterloo Schools district had a graduation rate of 74.18%. A year later, the district hit an all-time high of 80.3%. That happened again with the class of 2017, when 84.15% graduated.
"Our work has been intentional, and we believe it directly reflects the work we are doing around early identification of needs and increased opportunities for students, like that at the Waterloo Career Center," Lindaman said. "We also are thrilled our five-year graduation rate is on the rise, with rates from the past two years being the highest in our history at nearly 88%, nearly the Iowa average.
The same pattern is occurring in Cedar Falls.
Since the district graduated 95.2% of its seniors in 2015, the percentage of seniors finishing high school in four years grew annually, with 96.83% of its students graduating in 2018. That number dropped to 95.65% in 2019.
In Cedar Falls, 352 seniors graduated last spring out of 368 students at the school who were freshman four years earlier.
"The four-year graduation decreased some, mainly due to some students needing additional time for them to show mastery in our essential skills/graduation requirements," said Cedar Falls Schools Superintendent Andy Pattee. "When we review the five-year graduation rate, as some students need additional time to meet the graduation requirements and to be college and career ready, the rate is 98.56%."
The combined class of 2019 for East, Expo and West high schools in Waterloo included 667 students who started four years earlier as freshman. Of that total, 553 graduated last spring.
The majority of other public high schools across the Cedar Valley saw an increase in graduation rates, and many were near or above the state average. Clarksville, Dunkerton and Hudson saw 100% of their seniors graduate last spring. Of those schools, Dunkerton achieved the highest increase at 7.69% from the previous year. Clarskville High School's graduation rate of 95.45% rose 4.55%, and Hudson High School's rate of 97.73% rose 2.27%.
Denver High School also had a 100% graduation rate, unchanged from the year before.
Union High School's graduation rate was up 7.54% to 97.92%, and Jesup High School's rate of 90.20% increased by a percentage of 6.8%. Waverly-Shell Rock High School's graduation rate was up 5.64% to 95.88%, and Independence High School's rate of 93.69% increased by a percentage of 2.21%.
Other area high schools saw a drop in the percentage of students who graduated. Janesville, Aplington-Parkersburg and Dike-New Hartford all dropped from 100% for the 2017-18 school year. Janesville was down 4 percentage points to 96%, Aplington-Parkersburg dropped 3.57% to 96.43%, and Dike-New Hartford dropped 1.52% to 98.48%. Wapsie Valley dropped slightly from 98.04% to 97.87%.
Iowa's five-year graduation rate — which reflects students who were part of a graduating class but took an extra year to finish high school — was 93.5 percent for the class of 2018, up from 93.3 percent for the class of 2017.
"More Iowans are graduating high school better equipped to meet the demands of the 21st century economy," said Gov. Kim Reynolds. "Whether it's through computer science, STEM or work-based learning, we are changing the way our students learn and removing barriers that exist for underserved communities."
Iowa graduation rates are calculated with a formula established by the U.S. Department of Education. Iowa's rates typically are among the nation's highest high school graduation rates.