Cedar Valley 3D printers help plug face shield shortage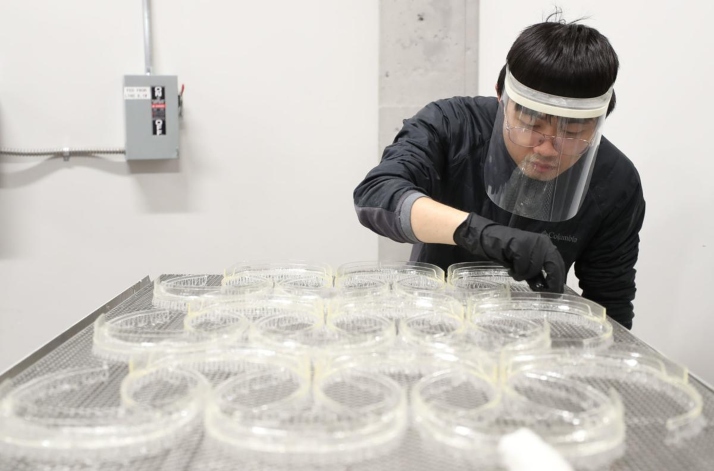 WATERLOO — The Cedar Valley is stepping up to help fill a shortage of face shields needed by health care staff battling the COVID-19 pandemic.
The University of Northern Iowa's Additive Manufacturing Center at the Cedar Valley TechWorks in downtown Waterloo is using its wealth of 3D printers to produce the protective devices with plans to begin distribution to medical providers soon.
Hawkeye Community College has reached out to its contacts in the local manufacturing community who are willing and able to help provide needed supplies.
Even the Waterloo Public Library, which is shuttered to prevent coronavirus spread, is using its 3D printer to make the plastic visors as part of a crowdsourcing drive in the state to produce more face shields.
A shortage of face shields and other protective gear for hospitals and health care providers is a major crisis as the nation battles a growing number of COVID-19 cases.
Andrew Morse, UNI assistant to the president for board and governmental relations, and Chris Hannan, Hawkeye's workforce development director, have been collaborating with each other and University of Iowa Hospitals and Clinics on ways to fill the void.
"Chris and I were hearing the same things about the need for 3D-printed face shields from the local health care community like we're hearing across the nation," Morse said. "The need exists in the thousands right now, and there's a shortage of suppliers."
UIHC provided a prototype face shield and the Additive Manufacturing Center is working with local medical practitioners to fine-tune the design to fit their needs.
"The two of us alone aren't the silver bullet to the need here in the community so we're reaching out to the manufacturers in the Cedar Valley," Morse said.
Hannan said Hawkeye is choosing to serve as a bridge between manufacturers and the health care providers rather than printing face shields itself.
"We didn't want to compete with UNI or business and industry," Hannan said. "We decided all we needed to do was leverage our connections with the manufacturing community in the Cedar Valley."
"The hope is that business and industry knows better than us," said Hannan, noting other manufacturing processes might produce shields more quickly and cheaper than 3D printers.
Hannan put out calls to local the business community and is getting an overwhelming response. Those firms are part of a list shared with the health care community.
"I know the health-care systems are struggling right now just to find supplies," he said.
The Waterloo Public Library is also doing its part to help produce parts for the face shields with a grant-funded 3D printer it purchased for patrons to use in July.